In April 2012 Michigan changed its helmet law from a universal requirement for all riders and passengers to wear helmets to a partial law allowing riders that are 21 years old and up, have been riding for two years or more, and carry an extra $20,000 in insurance coverage to ride without a helmet. Michigan is now one of the 28 states with a partial helmet law, with 19 states still having universal helmet requirements and three states having no helmet law whatsoever.
.
From 2011 to 2012 there was an increase in motorcycle fatalities in Michigan from 109 to 129, but as ABATE (an advocacy group that promotes motorcycle education and an end to helmet requirements) points out, the typical number of motorcycle fatalities ranges from 81 to 120 annually. ABATE also points out that of the 129 motorcycle fatalities in 2012, 116 were riders and only 54 of them had motorcycle endorsements on their driver's license. However the number of fatal accidents involving riders without helmets jumped drastically from only 9% of fatalities in 2011 to 42% in 2012. According to Carol Flannagan, a researcher at the University of Michigan Transportation Research Institute, 26 of the 129 fatalities in 2012 could have been prevented by maintaining a universal helmet law. How does Michigan's motorcycle fatality data compare to the nation?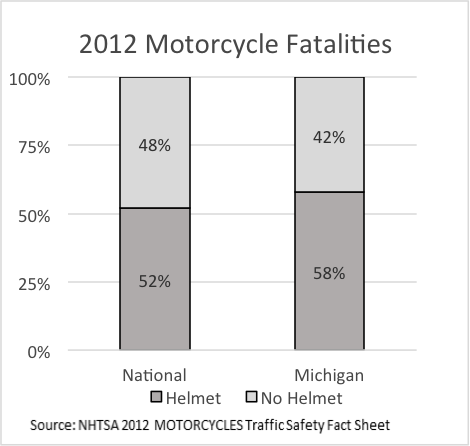 With the introduction of partial helmet laws, Michigan comes much closer to the national average of fatalities in motorcycle accidents based on helmet use. The CDC reports that in states with a universal helmet law, 12% of motorcycle fatalities are from riders without helmets, states with a partial law report 64% of motorcycle fatalities are from riders without helmets, and states with no helmet law report 79% of motorcycle fatalities are helmetless riders.
This data only reports helmet use in the case of motorcycle related accidents, it doesn't report overall helmet usage. Both the NHTSA and Michigan OHSP have conducted their own surveys and observations to determine an approximate rate of helmet usage. Michigan OHSP conducted a survey in 2012 and previously in 2006. These surveys when compared to the NHTSA's national observations show that while the rate of helmet use Michigan has declined quickly after the change in the law, it is still 13% higher than the national average.
The NCSL's 2012 Traffic Safety Trends includes some important statistics relating to motorcycle use as a whole. From 1991 to 2010 motorcycle use has increased by 100% and motorcycle fatalities have increased by 60% while other vehicle fatalities have decreased over the same period. From 2010 to 2011 the number of alcohol related motorcycle fatalities increased by 8.6% and was the only group of vehicles to see an increase in this categories. Carol Flannagan of UMTRI's research shows that alcohol use by motorcycle riders increases the risk of death by four times while not wearing a helmet doubles the risk of death. Flannagan cautions that because this data only corresponds to those motorcyclists involved in accidents it is not representative of all motorcyclists.
The CDC reports that in 2010 motorcycles accounted for less than 1% of all miles traveled that year, they accounted for 14% of traffic fatalities. The Michigan OHSP 2013 report shows a similar rate in the state, only 1.3% of all traffic accidents in Michigan involved motorcycles but they accounted for 15% of traffic fatalities. Motorcycles themselves are considerably more dangerous than other vehicles: the CDC reports that riders are 30 times more likely to be involved in a fatal accident than passenger vehicles. As most motorcycle advocacy groups, including ABATE and the American Motorcycle Association support partial or no helmet laws, it is unlikely Michigan will be revising its helmet law any time soon. Most advocates of less restrictive helmet laws cite the rider's choice to wear a helmet or not and stress that wearing a helmet is a good idea for riders, just a decision that should be made for them. The Michigan chapter of ABATE prepared a report in support of a less restrictive helmet law based on the positive economic impact it would make. ABATE estimated that $1.2 billion and 2,700 jobs would enter the Michigan economy from increased motorcycle sales and registrations as well as increased spending by in and out of state motorcycle tourists coming to Michigan.
It is unclear if these estimated benefits have come to pass but for cash-strapped states competing for tourism dollars, they have gotten state legislatures discussing helmet laws. In 2012 the NCSL reports that three states, Illinois, Iowa, (which currently have no helmet laws) and South Carolina made efforts to strengthen helmet laws and were unsuccessful. Nine states Minnesota, Oklahoma, Tennessee, Washington, Massachusetts, Missouri, New York, North Carolina, and Michigan considered legislation to weaken their helmet laws with only Michigan successfully passing legislation.
Sources:
CDC Morbidity and Mortality Weekly Report (MMWR): Helmet Use Among Motorcyclists Who Died in Crashes and Economic Cost Savings Associated With State Motorcycle Helmet Laws — United States, 2008–2010
http://www.cdc.gov/mmwr/preview/mmwrhtml/mm6123a1.htm
NCSL Traffic Safety Trends State Legislative Action 2012
https://www.ncsl.org/documents/transportation/2012trafficsafetytrends.pdf
Mlive Did Michigan's helmet-choice law lead to 18% increase in motorcycle fatalities? Early data unclear
http://www.mlive.com/news/index.ssf/2013/03/did_michigans_helmet-choice_la.html
Mlive 21 percent reduction in motorcycle deaths projected if Michigan helmet mandate was in place, researcher says
http://www.mlive.com/news/index.ssf/2013/03/21_percent_reduciton_of_motorc.html
Michigan OHSP 2013 Annual Evaluation Report
http://www.michigan.gov/documents/msp/AER_2013_18_web_449352_7.pdf
NHTSA Motorcycle Helmet Use in 2013 – Overall Results
http://www-nrd.nhtsa.dot.gov/Pubs/812010.pdf
NHTSA Traffic Safety Facts 2012 - Motorcycles
http://www-nrd.nhtsa.dot.gov/Pubs/812035.pdf
NHTSA Traffic Safety Facts 2011 - Motorcycles
http://www-nrd.nhtsa.dot.gov/Pubs/811765.pdf
AMA Position on Support of Voluntary Helmet Use
http://www.americanmotorcyclist.com/Rights/PositionStatements/VoluntaryHelmetUse.aspx
ABATE of Michigan Economic Impacts of Modification to Michigan Mandatory Helmet Law
http://www.abateofmichigan.org/HelmetBill/EconomicImpactStudyComplete.pdf